Available Exclusively From Audible
Part TWO of the Gustafer Yellowgold Story is here today! "MINNESOTA CHRONICLES" 
New Audible Original by Morgan Taylor and Audible~!
Get it HERE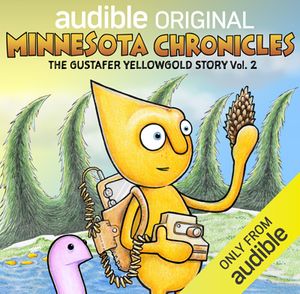 THE MINNESOTA CHRONICLES: THE GUSTAFER YELLOWGOLD STORY: VOLUME 2 out NOW!
Who knew that a visit to Minnesota would be even stranger than life on the Sun? Our tale begins where "I'm from the Sun: The Gustafer Yellowgold Story" leaves off. Emboldened from a putterbike race victory against his arch-nemesis, young sunling Gustafer Yellowgold heads to Earth to cure his ultra-rare case of Ice-Cream-Cone-Heart. Back on the Sun, Gustafer's older brother, Ben, faces the heat from Mission Control when the journey doesn't go as planned, and young Gustafer's fate hangs in the balance. Gustafer risks his own golden hide to find Earthlings amongst the lakes of Minnesota – but can he count on them to help him get his journey back on track and make it back home? 
Get it HERE